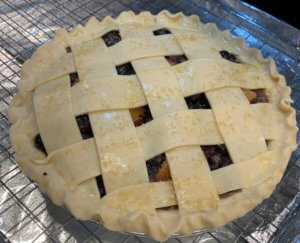 We are now taking orders for CHRISTMAS PIES. You can pick up an order form at the store or place your order directly here on our website. The website also gives a list of all the pies we offer.
We ask that all orders be in no later than the Friday before Christmas (Dec 20th by 10pm) – to guarantee we have them done in time.
We make all of the pies from scratch in our kitchen. Try one of our famous bourbon pecan pies – made with 36 Locks bourbon. Or try one of our warming and delicious Tollhouse pies, or a Fruit of the Forest (5 Fruit) pies, or an apple cider bourbon pie with oatmeal crumble or a traditional pumpkin pie. We have many different standards to choose from.